Ryder
, a 'loose cannon', is very passionate about the Grove Street Families and one of CJ's oldest friends. Short, scrawny, but violent. In the mission "Ryder", Ryder is unhappy after discovering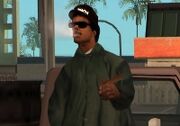 that the owner of 'Well Stacked Pizza' has dis-respected Grove Street by clearing the gang graffiti tag from his walls. Ryder picks at CJ's driving, and hasn't forgiven him for the 5 years he spent in Liberty City.Ryder is trying to setup a 'yay' business with T-Bone Mendez, Mike Toreno and Jizzy B (all members of the Loco Syndicate). Disloyal and greedy.
Ryder is voiced by MC Eiht, lead rapper of the group "Compton's Most Wanted". He starred in the film "Menace II Society" in 1993.
Ad blocker interference detected!
Wikia is a free-to-use site that makes money from advertising. We have a modified experience for viewers using ad blockers

Wikia is not accessible if you've made further modifications. Remove the custom ad blocker rule(s) and the page will load as expected.