Los Flores is a small district in eastern Los Santos, San Andreas possibly modeled after the city of Montebello. It is controlled by the Los Santos Vagos.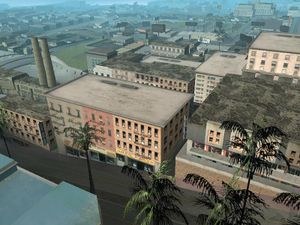 There are no specific residents of Los Flores, along with no weapons, stationary vehicles, icons or any other things of interest, besides a couple of collectibles, which are needed for 100% completion. The main roads of Los Flores are elevated. Part of it is also higher than the rest of the district. Los Flores is a combination of small time businesses and low quality apartments and houses, garages and a small bridge.
Ad blocker interference detected!
Wikia is a free-to-use site that makes money from advertising. We have a modified experience for viewers using ad blockers

Wikia is not accessible if you've made further modifications. Remove the custom ad blocker rule(s) and the page will load as expected.