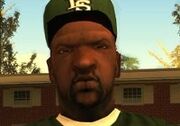 Sean Johnson, almost always referred to as "Sweet" is a main character in Grand Theft Auto: San Andreas and he is CJ's older brother, and believes that Carl is to blame for the death of their younger brother Brian. Sweet, a powerful and uncontrollable figure, heads up the Grove Street Families--a gang with a never-ending list of problems. Sweet dislikes the fact that his sister Kendl is dating Cesar Vialpando because of his status in the Varios Los Aztecas. Sweet won't respect Carl until he has "paid his debts", and made up for the time that he was gone. Extremely loyal towards his gang, and the hood.
Sweet is voiced by Faizon Love, who has starred in various productions from 1992 to present. Love was born in Santiago de Cuba, in 1968.
Ad blocker interference detected!
Wikia is a free-to-use site that makes money from advertising. We have a modified experience for viewers using ad blockers

Wikia is not accessible if you've made further modifications. Remove the custom ad blocker rule(s) and the page will load as expected.